Biotherm Homme Aquapower Gift Set
00020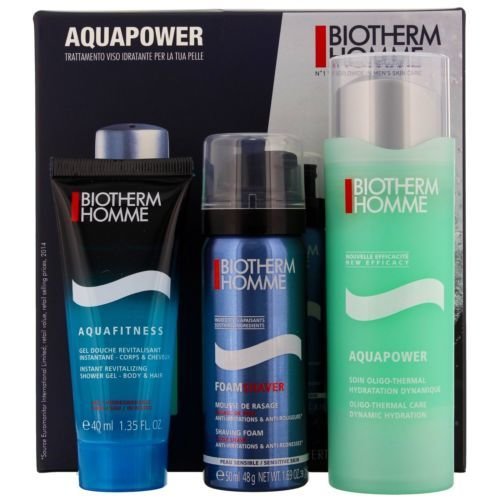 Aquapower Dynamic Hydration for Dry Skin 75ml:
Providing a dense, gel-based formula the Aquapower Dynamic Hydration for dry and very dry skin is a revitalising moisturiser that helps to not only hydrate the skin but boost resilience and supply nourishment. By combining the goodness of amino acids, Vitamins E, C and B5 with the resilience boosting Plankton it offers a paraben free formula that leaves skin cool and hydrated throughout the day.
FoamShaver Shaving Foam 50ml:
An exceptionally high-quality, gentle shave formula containing Pure Extract of Thermal Plankton and chamomile extract, to soothe skin while warding off and reducing irritations, redness and burning. The blade glides over the skin more easily, thus preventing tiny nicks.
Aquafitness Instant Revitalizing Shower Gel for Body and Hair 40ml:
Biotherm Homme Aquafitness captures the power of the sea and is enriched with sea water to leave a feeling of refreshing ocean surf on the skin.
Tangy, marine top notes go perfectly with the multi-faceted, sweet and earthy notes in the heart of the fragrance and wood tones in the base, allowing Biotherm Homme Aquafitness to give energy to the body and invigorate the mind.
FOR HIM